Every four years, the most important international football tournament creates global excitement and unites people all around the world to cheer on their nation in the FIFA World Cup. Yet this famous spectacle, with a worldwide gathering of estimated 3.5 billion people based on 2018's World Cup viewership, is spattered with abuse and violation of human rights.
In Qatar, journalists are imprisoned for reporting about migrant workers and working conditions, the LGBTQ+ community is seen as criminals and are disrespected. Women get repressed and need permission to marry, travel and study, to name only a few of the Qatari principles. Besides their problematic unethical behavior, the conditions under which the FIFA World Cup 2022 is constructed are morally unacceptable. Migrant workers suffer from intolerable working conditions, deaths with unknown causes and victims are exploited to unfair payment and total abuse. Ultimately, Qatar and its preparation for the upcoming World Cup have been compared to modern slavery. It is crucial to understand and be aware of the controversy that shapes and influences the all-time favourite tournament this year in Qatar.
Advertising in times of the World Cup 2022
Undoubtedly, the World Cup poses an immense chance for brands to push their brand awareness, attract customers and generate high revenue. However, this year it is not as straightforward as it might used to be. Marketers reflect on their advertising involvement nowadays, since more and more companies, organisations, players and teams are calling for action to fight against human rights violations in Qatar and holding the FIFA accountable. Brands encourage other companies and their audience to boycott the tournament and to distance from promoting the World Cup in order to set a statement.
Kia – Official FIFA Partner
Despite the controversy of this year's FIFA World Cup, Kia, the official automotive partner of the FIFA since 2007, started their global brand campaign. While various partners and sponsors waived their marketing placements and made space for messages fighting against human rights violation and the FIFA, Kia started to put in place marketing activities for the tournament, which are rather promoting diversity and shifting the focus towards team spirit and self-belief to reach dreams. Kia aligns their brand message "Inspiration. It's in all of us." with this years FIFA World Cup 2022 in Qatar to invigorate peoples imagination and foster inclusivity.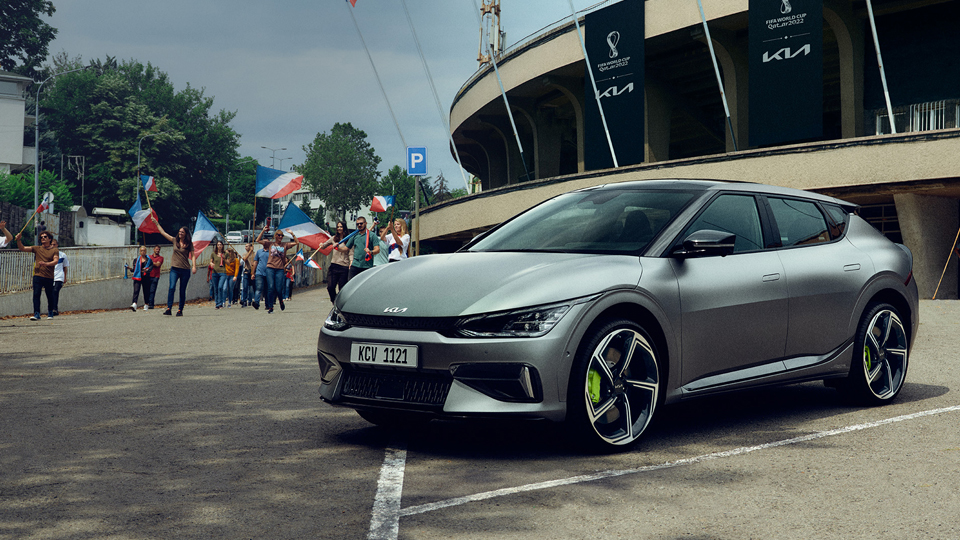 Even though the World Cup is played offline, the online interest of spectators is growing and demands increasingly more entertainment. Companies will have to boost their online offerings, especially on social media like YouTube or Instagram, in order to provide the best user experience and fully engage the community.
Campaign Message #KiaInspireTogether
Kia starts off with a campaign film capturing their key message and people's inspirations by the World Cup, that everyone can dream big and achieve great. The car company will distribute the campaign on TV and social media channels, such as mentioned YouTube and Instagram. In addition, Kia brings out a social media campaign with the hashtag #KiaInspireTogether, which shall motivate people around the world to show off their passion for football and share the spirit. This user generated content (USG) will be featured in the stadiums on big electronic boards.
To strengthen the campaign and animate more and more fans from different ages and backgrounds to share their part of the story for the FIFA World Cup, brand ambassadors like Rafael Nadal and other influencers also participate in the campaign. On top, Kia's official match ball carrier (OMBC) spotlights the vision of 64 children from 20 different countries and popularize their narrative through social media. Find Kia's Instagram posts and inspirations here: https://www.instagram.com/kia.worldwide/?hl=en
Sources: